Hi. My name is Robert Liff. I've been in the Vanity/Memorable Telephone Number business for the past 20 years.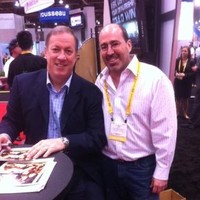 I've helped big and small companies like Weight Watchers (800-Start Now), ESPN (800-Desportes), Pirelli Tire(800-Pirelli) and Infiniti Insurance(800-Insurance) to name a few use the best phone numbers for their company.
It all started about 20 years ago when I was in the tire business and we were selling Pirelli Tires and I wanted to have a jump on all the other dealers. I was able to get 800-Pirelli and came up with a slogan. If you have a flat and don't know where your at, pick up the Telli and dial 800-Pirelli. We spoke to Pirelli about it and they loved it. Since then I went on my own helping Companies increase their advertising results just by using a Memorable Telephone Number You wouldn't pick a random name for your web-site, so why would you for you Telephone?
You give us a name and we'll give you a Number!
The Telephone is still one of the most used and most important way to contact your company. It also has the best conversion rate of any medium. Our Motto is, if we don't get you a Number you want you pay nothing.  Give us a try!
Remember, if you only have a few seconds (billboard, Radio, Conversation) will they remember your number, If not they'll remember ours
Our Telephone Number is 732-Numbers (732-686-2377)
We get the very best Local and Toll free numbers for your business